Thank you to the hundreds of people who visited Polyphenolics' booth during SupplySide West 2017. You kept us incredibly busy! We also wish to thank heavyweight champs Larry Holmes and Gerry Cooney, who brought lots of energy to our booth.
We had many lively discussions about our advancements. It was fun to talk about why MegaNatural®-BP and MegaNatural®-Gold are marketplace leaders, and to get your thoughts on the importance of traceable, transparent and trusted ingredients.
Our "What's Hot Q&A" and SSW ad turned out to be great conversation starters.
Here are some of our favorite SSW 2017 highlights
Boxing Lesson with Holmes and Cooney
Legendary boxers Larry Holmes and Gerry Cooney drew quite a crowd, especially when they staged an impromptu boxing lesson in our booth. This time around, their laughs outnumbered their jabs.
Day 1
What's better than winning a boxing glove autographed by Larry Holmes and Gerry Cooney? Winning the glove AND having your photo taken with these two heavyweight champs! Congratulations Gabriel Bennett from XR Nutrition.

Day 1 – #REMATCH Dinner
What an evening! Mark Lister, purchasing manager at Innovative FlexPak, attended Polyphenolics' once-in-a-lifetime REMATCH Customer Contest dinner at Caesar's Palace. Plus, Mark won the autographed glove and poster. Lucky guy!
Day 2
Mike Morley, with Bell Flavors and Fragrances, was elated to win the fight poster signed by Larry Holmes and Gerry Cooney. We are grateful to everyone who entered our drawings.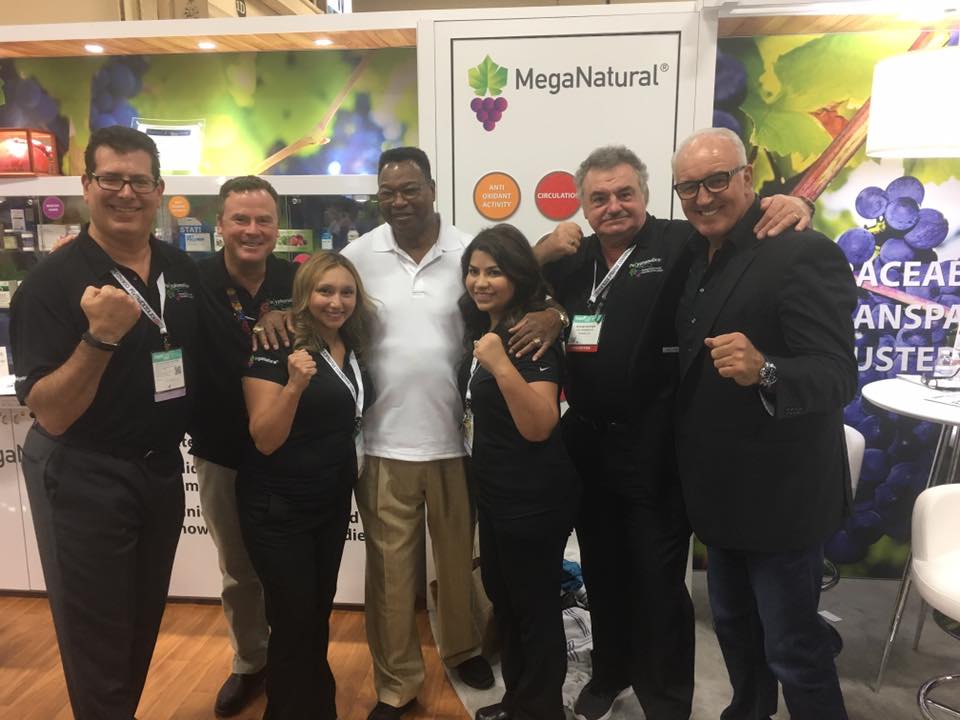 What an event!
Celebrating a sensational REMATCH, from left to right: Gregory Arabatzis; James Kennedy, President, Polyphenolics; Jessica Ornelas, Customer Service Advocate; Larry Holmes; Debra Cerda, Marketing Specialist; Steve Kupina, Director of Technical Sales; Gerry Cooney.